A pilates instructor apologized to fans of MONSTA X after making 'Lovestagram' jokes about Shownu.
The instructor earned criticism from MONSTA X fans recently for uploading a selca with Shownu. She wrote, "Taking a pic like it's #Lovestagram with a celebrity. Not just any celebrity but an idol. Not just any idol but Shownu."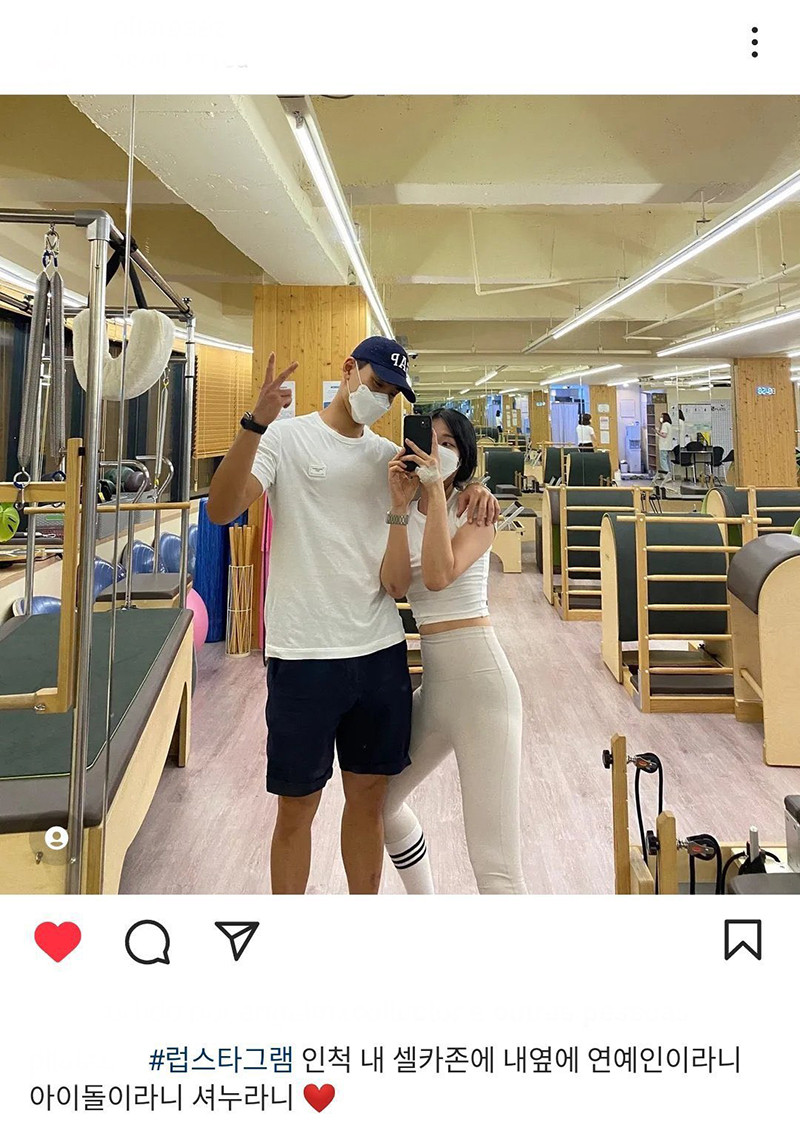 Due to the criticism of many fans, the instructor soon deleted the photo and wrote an apology. The instructor explained, "I am writing out of shock and bewilderment as my number of followers suddenly skyrocketed. I am a pilates instructor who helps Shownu's mother with her workouts. Yesterday, Shownu-nim brought his mother to the exercise center and took a photo with me. Because it was my first time seeing a celebrity up close in person, I felt amazed and wanted to boast, so I uploaded the photo. If the fans felt discomfort, I apologize TT."

Fans further claimed that the same pilates instructor had made similar jokes in the past.
The instructor wrote on Instagram after receiving a gift from Shownu's mother, "And she gave us perfume last time too TTTT. What if she actually has an eye for me as her future daughter-in-law~ (This is purely my hallucination.) If I visit you wearing hanbok during Lunar New Year and cook traditional food, can I meet Shownu, mother?"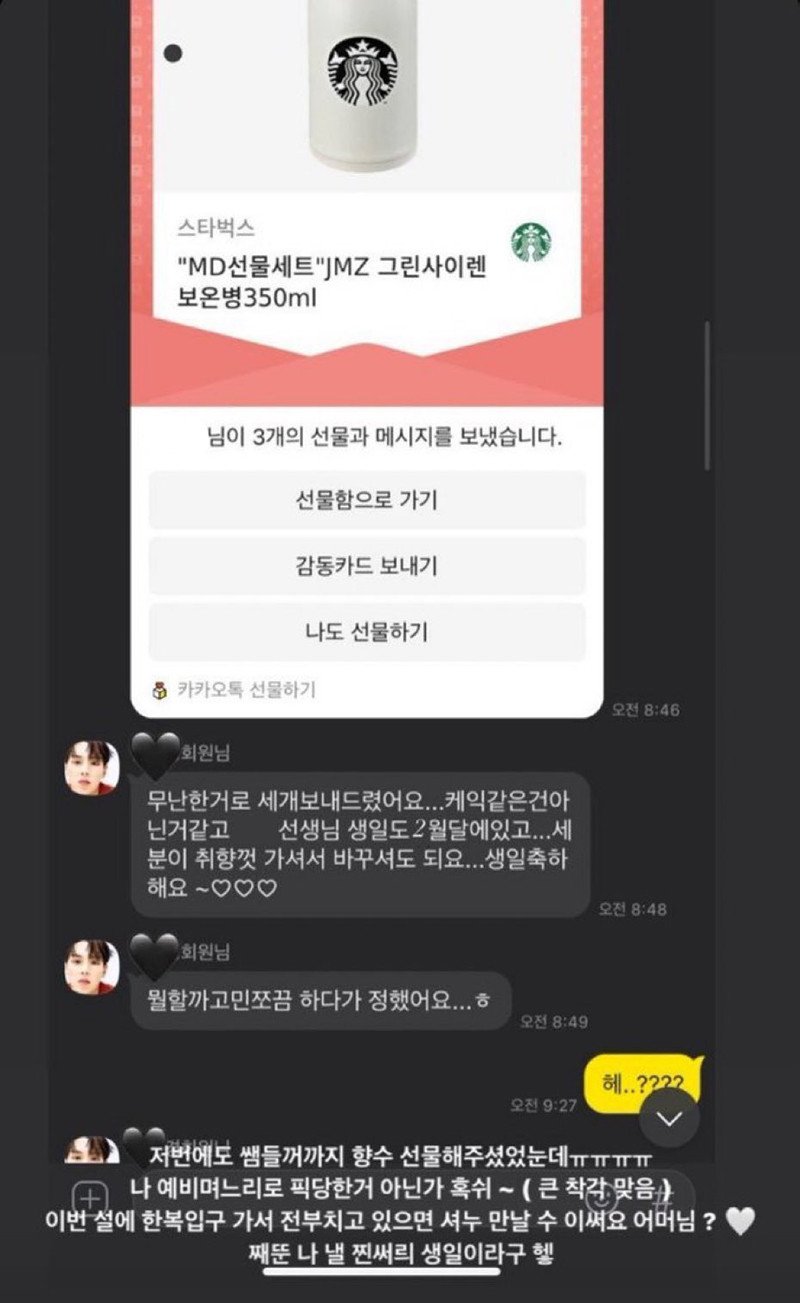 After receiving Shonwu's signature as a gift, the instructor wrote, "The high tension right before clocking out the day before the holidays begin (feat. MONSTA X's Shownu.) I don't know when I'm going to delete this kekekekeke. I'll be over soon for the Lunar New Year holiday to cook mother~"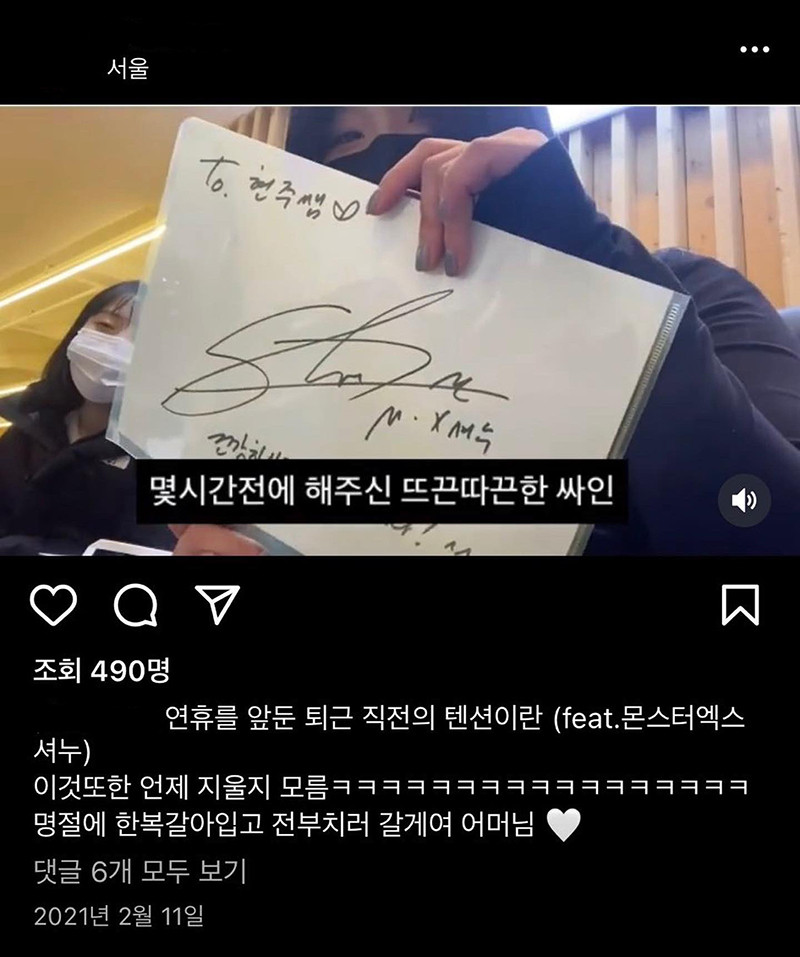 Fans angrily criticized, "What an attention-seeker", "The pilates instructor is at fault for tagging Lovestagram, but Shownu has some fault as well. Did he have to take a photo with that pose?", "Wow she thought she was being so clever in those New Year jokes", "Wow and Shownu's mother was so kind to her, giving her gifts and getting her Shownu's autograph", "What annoys fans even more is that Shownu is a public service worker right now, and Monbebes haven't gotten any updates on him in a long time so when this is one of the few times we get an update about him…", "She didn't even write MONSTA X correctly", "Shownu should have been more careful, especially when he's away for public service".