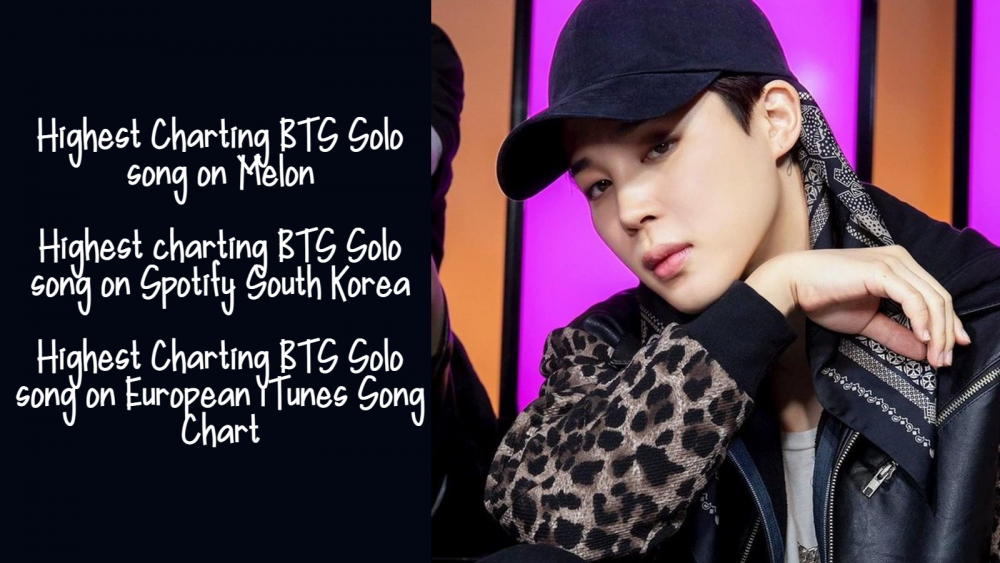 All of Jimin's solo songs under BTS' discography have achieved success, holding different records on different music platforms as per their respective albums. The same goes for his latest project, which was his first work outside of the group, With You.  Besides this song, you can try to listen to BTS Be Album. 
'Filter' has especially been a popular track ever since its release back in 2020. It holds the record for the most-streamed Korean official audio track on YouTube, the most-streamed solo song from the MOTS:7 album on Spotify, the most-streamed BTS solo song on Melon, and the B-side track with the highest number of #1s on iTunes around the world, among many other impressive records.
On June 10, BTS released a new album that included some of their previous tracks, including 'Filter' and 'Friends' and a few new songs. The new album solidified the status and popularity of Jimin's solo songs yet again, as was evident from various music charts.
For instance, all of his solo songs entered South Korea's Spotify Top 200 chart, with 'Filter' being the highest-charting BTS solo song on this chart at #13. Filter also re-entered the Spotify Global Daily chart, peaking at the highest position and charting for the longest period among all the solos from the MOTS:7 album.
On the Melon Top 100 – 4 Week chart, both Filter and Friends entered the chart, with 'Filter' being the highest-ranking solo of all 'Proof' songs on the Melon chart for songs released in the last four weeks. 'Friends,' his self-produced song which he performed as a subunit song, also attained the highest ranking among all of the group's unit songs.

On iTunes, having entered and topped iTunes charts in various countries around the world, 'Filter'  entered the European iTunes song chart at #53 as the highest-charting solo song from the album as well.
On the other hand, 'With You' re-entered the Spotify Global Viral Songs Daily Chart, ranking at #95, which earned the song its 22nd day on this chart since its release.
Fans were so proud of the performance of his songs and could not help but speak of how Jimin is indeed South Korea's favorite idol.
Jimin is a powerhouse vocalist, and it is not surprising that his individual projects keep registering such impressive results on different music charts time and again despite being unpromoted tracks. Fans look forward to listening to more masterpieces from him in the future.
Congratulations Jimin!